Search engine marketing, or pay-per-click, is similar to search engine optimization since they both work to increase visibility of your website. However, the difference is that one is organic (SEO) and the other is paid (SEM).
Stanton Street can help you get the competitive advantage with smart goals and a simple, flexible plan that utilizes the proper channels such as Google Ads™, Bing Ads, Yahoo, and even local online publications to reach your audience. As with most paid ads, your brand gets optimum exposure while also giving you valuable data on user behaviors.
Google Ads™
While we offer our SEM services for all search engines, we specialize in Google Ads. As the most popular search engine, Google has the best data on trends, users, and industries.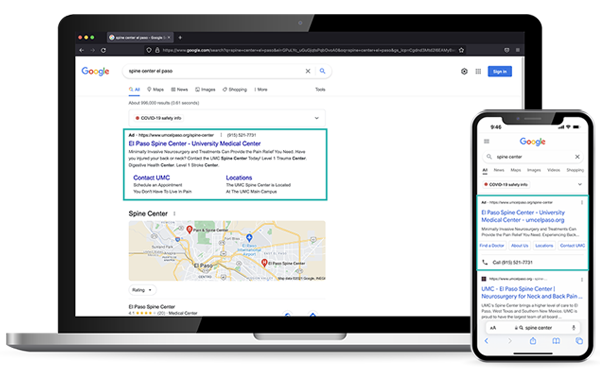 Stanton Street can boost your website traffic with a Google Ads search engine marketing (SEM) advertising campaign specifically designed to bring in customers searching for exactly what you have to offer.
Throughout the life of your Google Ads campaign, we'll monitor and report its performance all in real time while continuing to build upon its strengths and eliminating weaknesses. In this way, your website can obtain better internet visibility, while only paying for those clicks by potential customers going to your website.
We provide:
Keyword Research - we determine which keywords users are searching and words most of your competitors are using then carefully select for your campaign
Target Audience Analysis - your campaign is tailored to reach customers that are looking for your products or services
Copywriting - Straightforward communication is key when the space and time are short
Design - eye-catching, recognizable graphics are important for capturing the target's attention
Placement - forget the hassle, we'll contact online publications, purchase ad space, monitor and handle the billing for you
Campaign Geo-Targeting - pinpointing the geographic location(s) where you want your ads delivered to maximize conversions and minimize your campaign costs
Dynamic Keyword Insertion - the more keywords that appear in your ad, the more your ad stands out as being the most relevant bringing you one step closer to a conversion
Custom Landing Page - if needed, a custom landing page for your campaign can be developed
Custom Tracking Cookies - tracking a customer from ad click to sale is crucial but so is determining if they come back to your website again resulting in a sale
Google Analytics™ Monitoring - Google Ads has informative reports and data. Couple that with the power of Google Analytics, the result is more complete information about your return on investment.
Get quality leads with our SEM services! Call us at (915) 351-8440 or request your free quote below.