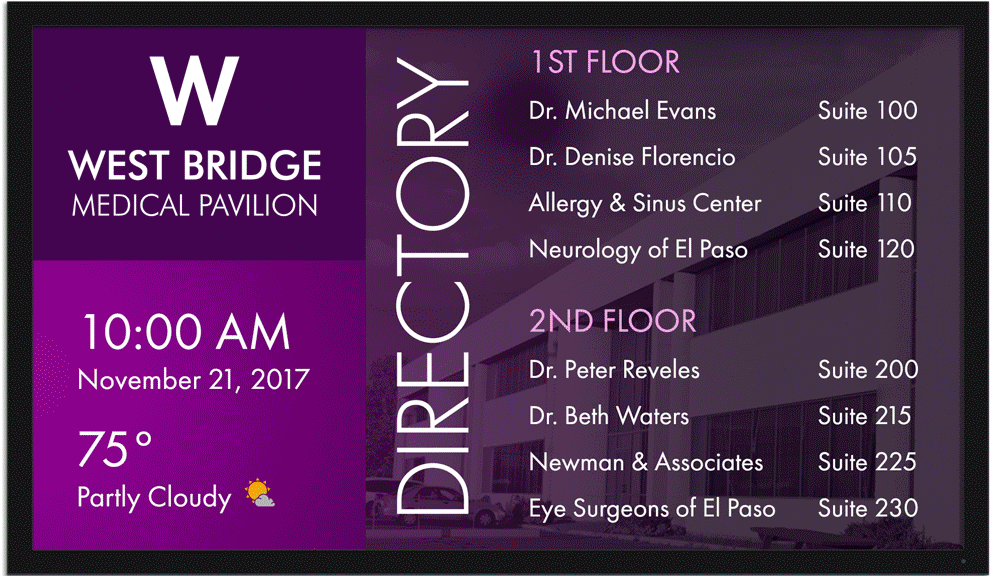 Visual Marketing with Digital Signage
Visual Marketing with Digital Signage
As marketers, we've known for quite a while that visual content provides the best results. We've stacked our websites high with custom photography. Our social media campaigns have eye-catching images and video in check. #TBH, the online media is pure fire… but is there something missing?
For most brick-and-mortar shops, there is another opportunity through digital signage. These screens can capture the attention of customers, clients or patients in a lobby or other waiting area. Digital Signage can also relay important human resources information to employees in a break room. If you have a house of worship, key verses or a calendar of events can display in various locations throughout your church.
We know how valuable of an opportunity this is for our current and future clients, so we'd like to announce that we are adding digital signage to our list of services.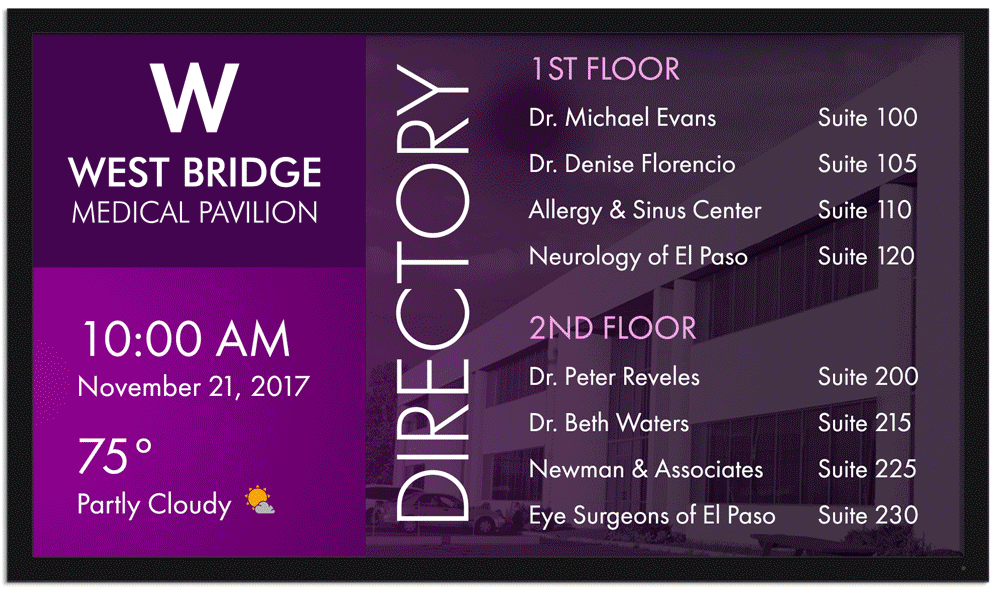 The Benefits of Digital Signage
The content of the signs can range from static rotating images to dynamic, multi-functional video and images. For example  – one screen can display the date, weather, a news crawl as well as a video advertisement of your services. Some of the benefits include:
Increased Recall – presenting information with a relevant image helps people process and remember information more quickly.
Turnaround for Time-Sensitive Ads – quickly edit content as opposed to waiting for files to be updated then sent out for another print.
Ad Scheduling for various times/days – reach a targeted audience in the window when they are most available.
Consistent Messaging – repurpose graphics from a current campaign for a digital sign.
Incorporate Social Media – include social media feeds, hashtags and other elements that promote interactivity.
Test/Deployment – run various iterations of an ad to see what gets the most response.
Video Leverage – use the digital sign to display video content for a higher level of engagement.
How it Works
Current clients will be able to use their existing content management system to upload, schedule and maintain digital display content. We'd simply add a new module to manage the digital signage content. If you aren't an existing client, Stanton Street will build a custom online management system that is web-based and easy to use via any browser. For either situation, we'd drop by your location and assess what hardware there is – or is not – then move forward with a plan.
If you'd like to know more, fill out our contact form or call us at (915) 351-8440.
Read More
Key Marketing Trends in 2016 and How Digital Signage Helps
The Importance of Visual Content Marketing
Naomi Dhillon is an Account Executive at Stanton Street, a website development company in El Paso, TX.
Contact Naomi Dhillon at (915) 351-8440.