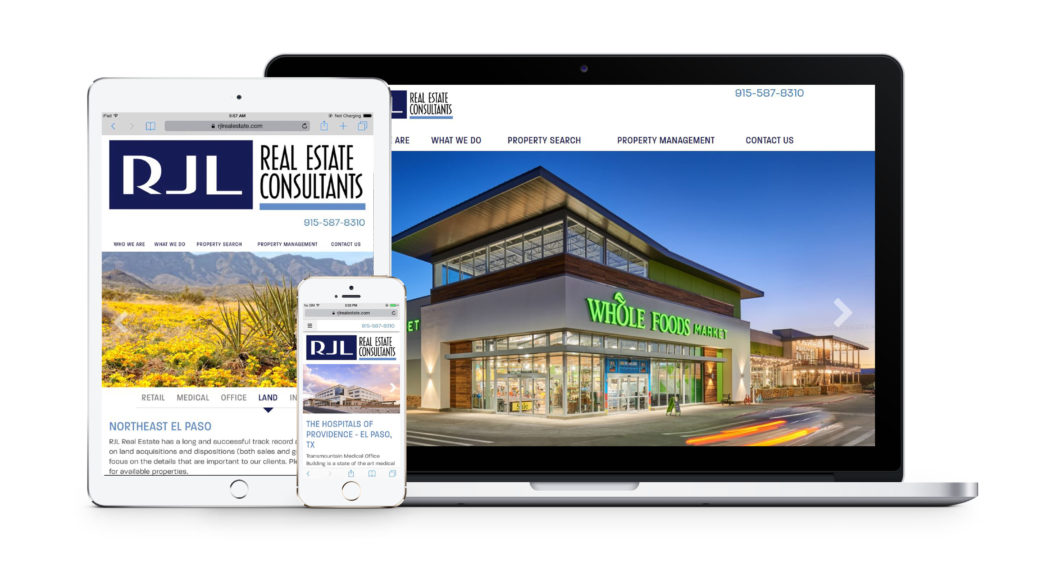 RJL Real Estate Consultants have a new lease on online
RJL Real Estate Consultants have a new lease on online
Stanton Street is the premier purveyor regarding developing websites from the ground up. We make it easy for our clients to understand why we recommend options that are best for the needs of their unique business. All of the sites that we build for our clients are of course responsive and are something that our clients can grow with and be proud of.
Recently, we teamed up with RJL Real Estate Consultants. Much like Stanton Street they have been in our community for almost 18 years. Rick Amstater, John Folmer, and Leo Scott founded their agency with a combined 58 years of experience. Their experience within our community and beyond made RJL Real Estate Consultants El Paso's most trusted commercial real estate brokerage firm. The team at RJL has over a hundred years of experience and takes great pride when working within the real estate and property management realm.
Stanton Street understood the importance of creating a place online where potential clients could browse current sale and lease properties as well as getting to know who their team is. The large images on the homepage scroll through different properties within each area of real estate that RJL Real Estate Consultants has brokered in. Located within the "Who We Are" tab is their history and team bios so you can find the broker that fits your business needs. The "What We Do" and "Property Search" tabs are also very important because you can examine what other services they offer that you might need as well as all their current listings for sale and lease.
RJL Real Estate Consultants is a multi-faceted company and their site needed to reflect that. Therefore, when you scroll over to the property management side of the website the colors are shifted to green to reflect their brand standards. While clicking through their property management tabs, their logo appears and all contact information changes to the proper contacts.
RJL Real Estate Consultants now have a website that they can grow with over time but they also have a place to showcase their expertise, display current and past projects, and generate solid sales leads that will directly affect their business. Congratulations, RJL Real Estate Consultants, go forth and prosper.
If you are interested in find out more about the services we offer here at Stanton Street give us a call!
Stanton Street is a web design and website development firm in El Paso, Texas specializing in Websites, Intranets, Extranets, SEO/SEM, Website Analytics, Email Protection and Email Newsletters. Designing and developing websites since 1999.