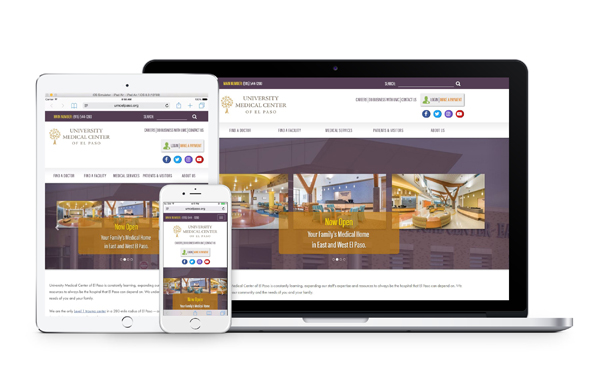 University Medical Center Undergoes the Stanton Street Treatment
University Medical Center Undergoes the Stanton Street Treatment
University Medical Center of El Paso has been part of our community for decades, and throughout the years they have worked hard to become one of the best hospitals in the region. Stanton Street has also been part of this same community for years and we understand our community, web development, design, and the needs of our clients.
University Medical Center of El Paso is the only Level 1 trauma center in a 280-mile radius of El Paso. They are the only hospital in El Paso to be named one of American's Top 100 Hospitals, twice. We were very excited and honored to be given such a prestigious opportunity. Here at Stanton Street we take all our projects large or small very seriously and identifying the needs of our client is the first and most important step we complete when redesigning or creating a website. We want all the sites that we create to have an updated look and feel as well as a responsive design.
The website has a lot of big bright images that reflect the people who work, visit, and have stayed at the University Medical Center of El Paso. Our Director of Design and Development, Tony Casas really wanted to connect the community to the hospital with the design of the site. "University Medical Center has had a long track record of being there for El Paso. Each person we spoke to had their own story of how UMC had changed their lives, and in some cases, were there for the start of their lives. We wanted to bring the same feeling of connection to the site through both visual and physical representations. I used soothing colors, focusing on the faces of El Paso, and giving the community quick access to Doctors, Nurses, Careers, Facilities, and even food menus helped us accomplish this."
Stanton Street had a blast working on this product that will last our community and our client for years to come. If your company or business is important to you and you're tired of other website companies promising you the world and delivering you a less than satisfactory product, give us a call. We do the research and provide you with solutions that are tailored for you and the needs of your business. Message us on Facebook or call us at 915.351.8440.
Stanton Street is a web design and website development firm in El Paso, Texas specializing in Websites, Intranets, Extranets, SEO/SEM, Website Analytics, Email Protection and Email Newsletters. Designing and developing websites since 1999.