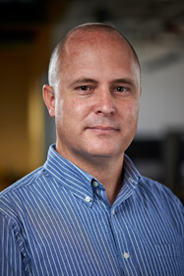 Stanton Street Announces New Ownership
Stanton Street Announces New Ownership
Brian Wancho is the new Owner/President of Stanton Street, after purchasing the company from Amy O'Rourke. Wancho has been with Stanton Street since 2001, and he has served as CEO since 2005.
Brian is also locally well-known as a professional photographer having photographed several El Paso landmarks, business people, and cultural events. He attended the University of Texas at El Paso earning a B.B.A. in Business Administration.
"This change is a natural progression for Stanton Street," states O'Rourke. "Brian has been leading the team at Stanton Street for over ten years, and I am confident that the company will be stronger than ever under his ownership."
"We have a great team who is dedicated to high quality web solutions, and I look forward to the opportunities and accomplishments moving forward," states Wancho.
Amy will continue to be involved with the company during the transition. She plans to spend more time on local initiatives in addition to joining her husband, Senate Candidate and current U.S. Representative Beto O'Rourke, on the campaign trail.
Naomi Dhillon is an Account Executive at Stanton Street, a website development company in El Paso, TX.
Contact Naomi Dhillon at (915) 351-8440.