Website Down! Reasons Why Websites Go Down and What to Do
Website Down! Reasons Why Websites Go Down and What to Do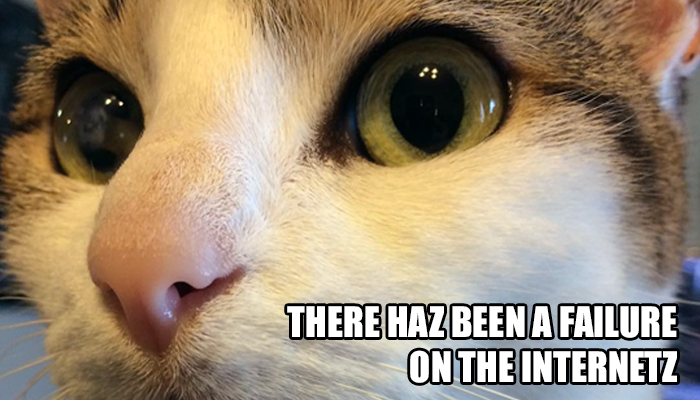 Websites go down. It's a digital fact of life due to Mother Nature, hardware issues or other things mostly out of a web provider's control. Either way, there's no question what your next action should be: call your developer. In this case it would be us at (915) 351-8440. If it's during the weekend, submit a HelpDesk ticket and we'll get back to you right away.
Now let's get into the details of why your site is actually down. A few of the more standard reasons are below listed by severity. Other wacky, unbelievable things are the stuff of legends.
Server Maintenance
Typically we alert our customers ahead of time when we have server maintenance scheduled. Server maintenance is necessary for hardware upgrades or security/software updates. Users are notified ahead of time and most maintenance is done when there is very little traffic to a site. For most businesses, midnight is usually a great starting time.
Coding Errors
Coding is very cerebral work and when the cerebrum is full, a developer may forget to close line of code or comment something that makes your site work. It's typically an easy fix once the developer downs a Monster then reads through lines of code associated with site functionality.
Hardware Malfunction
Servers are machines and sometimes fans bust, circuits fry or are just angry in general. Replacing the offending part is usually an easy fix; unless it needs to be ordered then it's up to UPS and their trusty steeds.
DNS Changes or Expirations
Domain names are typically a third-party affair. Sometimes, the third-party company the website address is purchased through changes its IP address and doesn't communicate it with our servers. Other times, the domain name expires and no one renews it. Both result in chaos where villages of sites burn down.
Server Overload
If you happened to post something controversial or are giving away free cars through your website, expect a tsunami of traffic. If well planned, you can have backup servers to help maintain services while millions of calls are being made to your URL. If not, the tsunami will consume and obliterate.
Datacenter Problems
Servers are usually large and in charge – so like many other companies, some of our websites are hosted offsite. These offsite locations are large storage facilities specifically designed to maintain the optimum performance environment. When those datacenters are hit with a power failure or a hardware malfunction, it affects all of the sites that live there.
Hacking
Now unless you're a high profile what have you, it's unlikely that you'll get hacked. However, these things do happen especially for slimy malware programs that make their way onto the computer you use to maintain your site. To prevent this, make sure your password is secure and you're not a "Clicky Cathy" clicking on every banner ad you see.
As mentioned before, websites go down. The best advice we can give is to be patient, available and provide all of the information that you can. We'll help you as quickly as possible to get to the root of the problem. Questions? Comments? Hit us up via our contact form or call us at (915) 351-8440.
Naomi Dhillon is an Account Executive at Stanton Street, a website development company in El Paso, TX.
Contact Naomi Dhillon at (915) 351-8440.