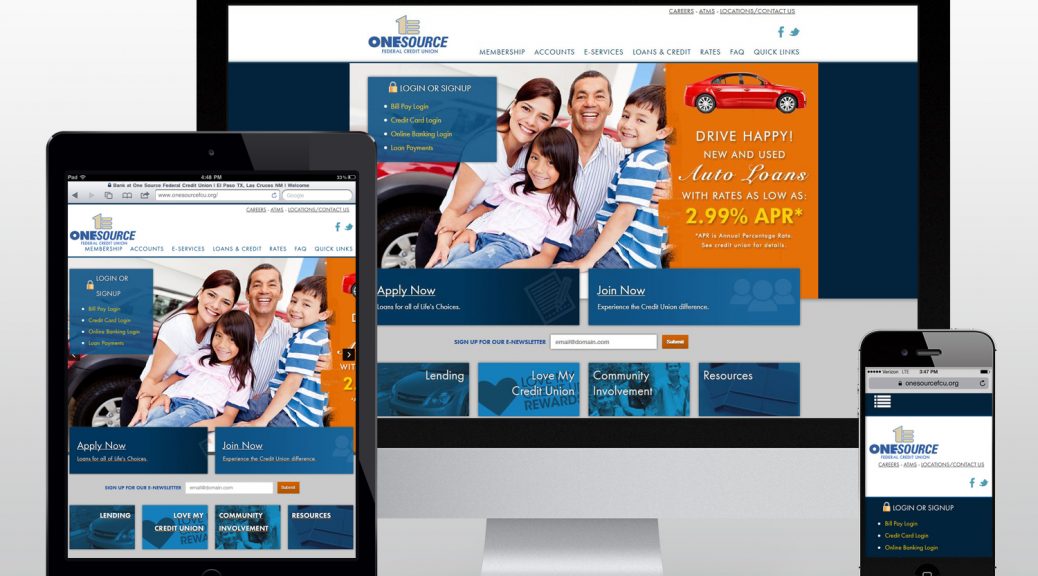 One Source Federal Credit Union Website Redesign
One Source Federal Credit Union Website Redesign
One Source Federal Credit Union was founded in 1937 and has locations in El Paso, Texas and Las Cruces, New Mexico with the purpose of helping members meet their financial goals. They needed their old website refreshed to better represent their services and appeal to their member-owners. Stanton Street was able to bring their vision to life with vibrant images, colors and easy-to-find information.
Serving both Spanish and English speakers, the new website delivers relevant and timely information for all member-owners. Users can select their desired language by clicking the orange button at the top of the site to view content specifically geared to them. The site is also built to display on various screen sizes. This means users can view the site on their desktop or any mobile device – like a smartphone.
Specific services and other important information is highlighted through rotating banner images on the homepage. Each banner is clickable, taking the user to a sub-page for additional details. The homepage also contains logins for various services that help member-owners manage their accounts.
The homepage also features a top level navigation and a main navigation. The top level navigation contains links for career, corporate logins, ATM searches and locations with maps and a contact form. The Career page displays all open positions within OSFCU and gives users the opportunity to apply online. The ATM search provides a list and location for all ATMs located within a certain vicinity. Simply type in the zip code or address, city and state to find the one nearest you! Locating an OSFCU branch or main office is a cinch with the Location/Contact Us feature. Have a question for a specific branch or main office? Submit it through the contact us form within each location tab.
The main navigation is home to the various services OSFCU provides. Here, potential and current member-owners can learn more about OSFCU and what they offer in regards to Membership, Accounts, E-Services, and Loans & Credit. Users can also look up current Rates, check out the FAQ's or view the Quick Links to get to where they want to go in one click.
Are you in need of a 21st century website revamp? Fill out our contact form and we'll help you rebuild and rebrand yourself! You can also reach us at (915) 351-8440 to find out more information.
Naomi Dhillon is an Account Executive at Stanton Street, a website development company in El Paso, TX.
Contact Naomi Dhillon at (915) 351-8440.