Copyright Infringement and Your Online Content
Copyright Infringement and Your Online Content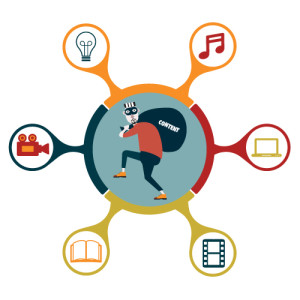 Earlier this year we posted a link to an article that stirred up quite a bit of attention. In summary, a band grabbed an image from a photographer's website, edited it and uploaded to their Facebook page without getting permission from the photographer or giving him credit. To make things worse, photographer confronted the band and the band blasted the photographer online. In the end, the photographer was vindicated with a check and a swift apology 'cause the law won.
Risky Business
Pulling content off the Internet and using it for your own purposes comes with major risks. This is especially true when you have a blog or website where images sit waiting to be tagged for copyright infringement lawsuits. Several content creators meticulously scour the Internet for violations through software programs or add tracking tags to their content. So it's not a matter of "if they find you," it's more like "when."
Your Responsibilities As A Website Owner
If you're building a website through a third-party, it is your responsibility and right to know where your images and content originated from. Reputable web design companies should also provide you with an invoice or contact sheet with details about your images. In regards to the text on your site, be sure not to copy it from somewhere else – online or print. Yes, copyright law covers all forms of media.
Once your website is handed off to you for maintenance and updating, we highly recommend that whoever is updating your content knows enough about copyright and image use to prevent you from being sued. For peace of mind assume any images, logos, videos, text, symbols, and printed materials are copyrighted. If you need content for your website or blog post, here are a few suggestions:
1. Create Your Own Content – The best approach is to create your own content. Hire a professional photographer, copywriter or purchase your own fancy digital camera. Trust me, the investment you make here is minimal compared being sued for copyright infringement which can run into thousands of dollars.
2. Purchase Stock Content – You can also purchase affordable, high-quality images or other media from a stock site. Be sure you are purchasing the right license that covers how you will be using the content. Most standard licenses cover online use only. If you are using content for a marketing campaign, you will more than likely need to purchase an extended license. One of the downsides is that your images will not be unique and can be used by anyone else – including your competitors.
In summary, copyright infringement is a costly mistake that can be avoided. The law doesn't care if you plead ignorance or think you didn't do anything wrong. A majority of the time the website owner will be held accountable. Don't set yourself up for a hefty fine. To find out more about copyright infringement or ask questions about your online efforts, fill out our contact form or give us a call at (915) 351-8440.
******************
Read More about Copyright Infringement:
Ars Technica: ISPs sent 1.3M copyright infringement notices to US customers last year
Bloomberg Businessweek: Since It Can't Sue Us All, Getty Images Embraces Embedded Photos
United States Copyright Office: Copyright Basics
Naomi Dhillon is an Account Executive at Stanton Street, a website development company in El Paso, TX.
Contact Naomi Dhillon at (915) 351-8440.