Yardbright's Landscape Lighting Website Illuminates the Internet
Yardbright's Landscape Lighting Website Illuminates the Internet
Yardbright Landscape Lighting is a manufacturer and distributor of quality outdoor landscape lighting and garden products based in El Paso, Texas. They had an existing e-commerce website that needed to be spruced up a bit. Stanton Street had lots of ideas to improve the website, easier to navigation, updated design and lots more pictures. But, we also had a business solutions idea to help Yardbright better manage their product inventory.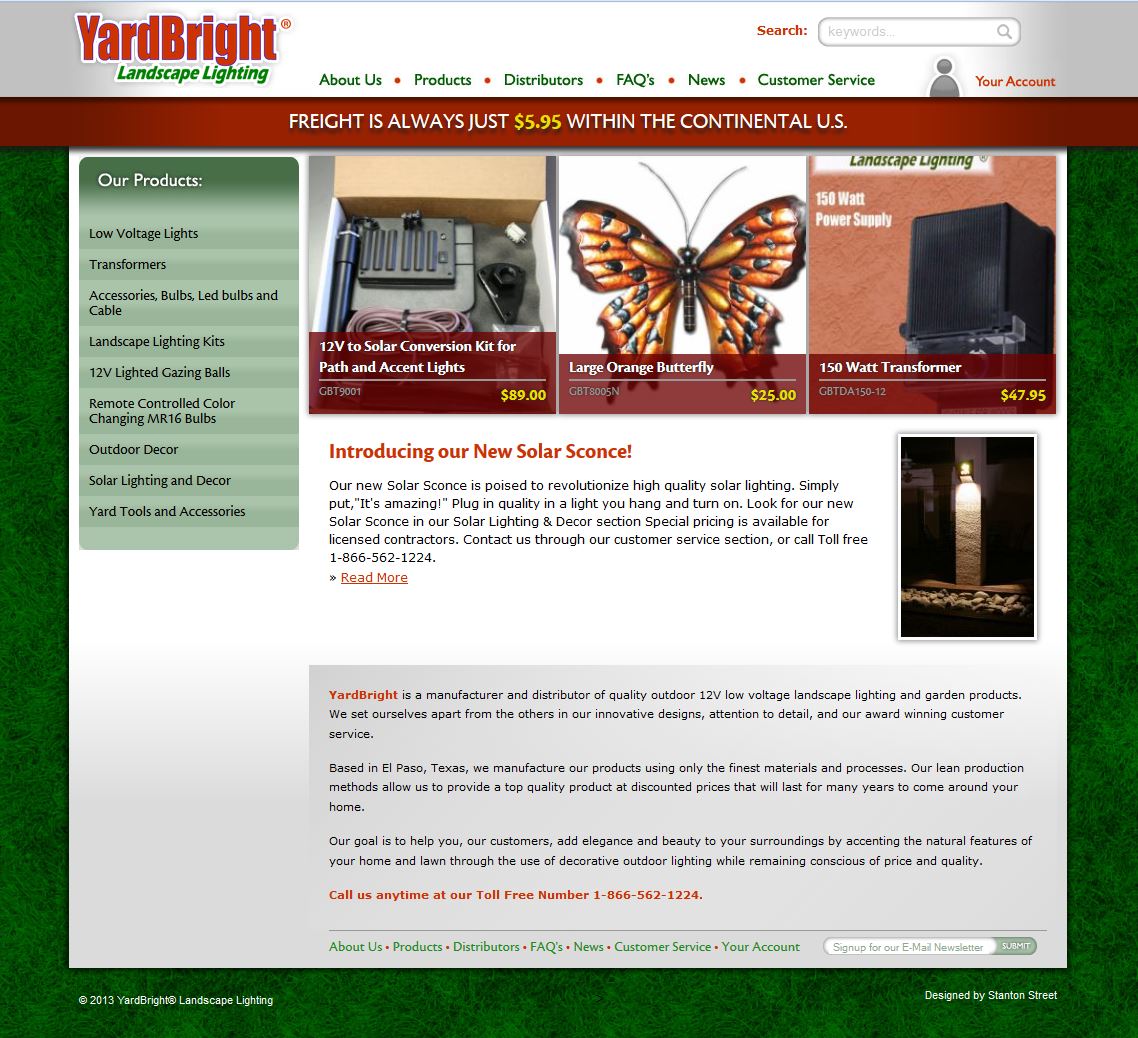 Yardbright's new website gives them the ability to customize their product catalog by adding or changing categories, sub-categories and products at the speed of light. It also features lots of great products on the homepage. Since a picture is worth a thousand words, Yardbright can now upload multiple images of each item they sell. Multiple pictures are so very important in helping customers to make their final purchase choices. The system also suggests other items to a customer based on purchases made by other customers.
To further assist customers, at the beginning of the checkout process they have the option to create an account. This account will allow customers to login to view their order history, make changes, as well as place new orders.
But wait, there's more. Stanton Street added an Inventory Management System. The system tracks exactly how much product Yardbright has on hand. It also lets the online customer know if the item they selected is "in stock," in "limited supply" or is "out of stock" and identifies the approximate ship date.
Do you need a custom website or business solution to spotlight your products or services? Give Stanton Street a call or send us an email. We'd love to help your business shine!

Karen Loper is the Internet Marketing Specialist at Stanton Street, an El Paso, Texas website development company.
Contact Karen Loper at (915) 351-8440.