There's a New Sheriff in Town
There's a New Sheriff in Town
Question, who has two thumbs, a khaki blazer, a cat shirt collection, and just got a promotion? Answer, that guy right there.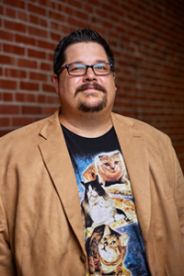 Tony Casas has managed to snag a brand spanking new position here at Stanton Street Technology. I give you our new Director of Design and Production. Tony will represent and guide our kick-butt development team, he will set the pace, path and standards for all production activities. He will work closely with the production department , project manager and client services to ensure our projects meet specified requirements, timelines and budgets.
Since Tony has been designing things graphically since he was seventeen and has developed too many sites to count over the last 7.5 years he was an obvious choice. Tony brings his quick wit, eye for design, and a huge smile to work with him everyday. We are oh so very lucky to have him as a part of our team and can't wait to you to flourish in your new position. Congratulations Mr. Casas, Cheers to you!
Stanton Street is a web design and website development firm in El Paso, Texas specializing in Websites, Intranets, Extranets, SEO/SEM, Website Analytics, Email Protection and Email Newsletters. Designing and developing websites since 1999.