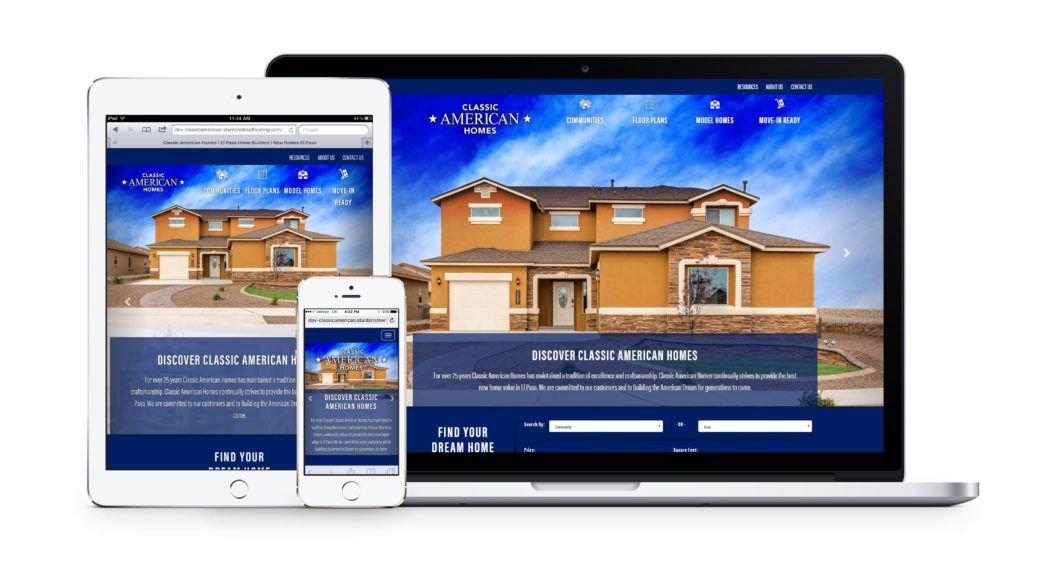 Stanton Street Creates Classic New Look for Classic American Homes
Stanton Street Creates Classic New Look for Classic American Homes
Classic American Homes has been one of the most reputable home builders in our community for over 25 years. They provide you with the trust and understanding that you need when you are purchasing a new home. They partnered with one of the most reputable web development agencies in El Paso to create the pages of their new site and Stanton Street did not disappoint. Stanton Street gave Classic American Homes a fresh updated look that will put their clients at ease and identify different properties in the price range they are looking for.
The Classic American homepage displays eye catching, high resolution images that really capture the quality of home that Classic American produces. Discovering what Classic American Homes has to offer you have never been easier. Right from the homepage you are able to Find Your Dream Home. You can select a desired location or search by community. You can narrow down or expand your price range and square feet you are interested in, as well as how many rooms and bathrooms your family needs. This is an extremely useful way of searching for homes in our region are not limited to viewing from a desktop. You are able to view every single aspect of the site from any mobile device or tablet.
The navigation is clean and allows you to explore Classic American even further. The Communities tab will allow you to explore all the areas in El Paso where you are able to buy a home through them. The color coded map is very helpful in identifying different areas, especially if you are new to El Paso. There are several different floor plans that you can view on the website. You can view the price range, square feet, beds, baths, and levels of a particular house before even clicking your mouse. Model Homes are available to view on the site and you can set up an appointment to meet with an agent and view the home in person. If you are in need of a home right away or you know exactly what you want there is also an option to explore homes that are Move- In Ready. Finding what resources that are available to you are great for first time home buyers and current homeowners. From the Resource tab you can also understand what kind of Customer Care Classic American Homes will provide you with.
Whether you are purchasing a home for the first time, buying a new one, submitting a warranty request or are strictly browsing this site has it all. Stanton Street and Classic American Home has created a place for it all to coexist together. If you are thinking about redesigning your website, need consulting help, or what a full on redesign, Stanton Street has you covered. Give us a call at 915.351.8440.
Stanton Street is a web design and website development firm in El Paso, Texas specializing in Websites, Intranets, Extranets, SEO/SEM, Website Analytics, Email Protection and Email Newsletters. Designing and developing websites since 1999.