Mixin' It Up In San Antonio
Mixin' It Up In San Antonio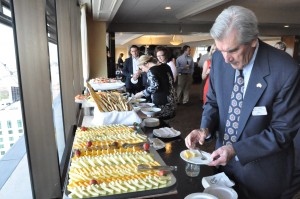 So we're settling nicely into our San Antonio location. We've got the office space, the new business cards and the lay of the land; it is now time to make some web design and development connections.
As one of the first orders of business on our recent move to San Antonio, we joined the San Antonio Chamber of Commerce, a must for entering the city's business community. On Wednesday, February 22, they held their Greater Connections Mixer at The Plaza Club downtown. You know Stanton Street Technology Group just had to be there.
After being greeted by the Chamber's gracious staff, grabbing a libation, and ogling the splendid assortment of tasty finger morsels on display from The Plaza Club, it was time to "mix" as it were. I was very pleased to meet such wonderfully warm and friendly people, many of whom were just as excited to have us in San Antonio as we are to be here.
Needless to say, we're off to a real gun-slinging start in the historic Alamo city. We met new website business clients and look forward to showcasing our website design and development skills with many more.
Whether you're in San Antonio, El Paso or anywhere else give us a call at (915) 351-8440 if you're interested in getting started on a website.
Stanton Street is a web design and website development firm in El Paso, Texas specializing in Websites, Intranets, Extranets, SEO/SEM, Website Analytics, Email Protection and Email Newsletters. Designing and developing websites since 1999.