Looking for Additional Web Site Benefits? There's An API for That!
Looking for Additional Web Site Benefits? There's An API for That!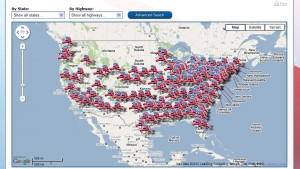 The future of web sites is still unknown. No one can predict what browsers will be capable of doing and how search engines will work. However, one thing is for sure – web site technology is constantly evolving. The things we are capable of doing with web sites today were not possible a few years ago. The technology has changed very little but the ways in which we use that technology has evolved tremendously.
Can you remember how maps functioned on the internet before Google Maps? Most likely you can't and that is okay because it was five years ago when Google Maps was launched. Five years is a long time in web years. (Note: If your website is older than five years old, you need an upgrade.)
Let's get back on topic.
Before Google Maps, web developers were limited on the number of options they had when adding maps to web sites. Today, sites like Google Maps have Application Programming Interfaces, or APIs*, which allow web developers to integrate Google Maps into other web sites and customize them to add additional benefits without requiring the user to leave.
APIs In Action
Recently, we redesigned the website for  TravelCenters of America (TA), and integrated Google Maps in a very unique way by adding two custom Google Maps to the site: "Find a Location" and "Trip Planner." These maps are powered by Google, but we are using their API to add additional benefits to Google's already great map.
Find a Location was built to provide users with an overview of all TA locations and allows users to filter results based on state or highway. The purpose of this map was to provide users with a quick way of browsing for TA locations. Not every driver needs directions but many, such as truck drivers, do like to know their options. Statistics show that the majority of traffic to this page is coming from TA's Truck Drivers page.
Trip Planner was built to give users directions to a destination and to provide the users with the addresses of TA locations on the way. A search from El Paso, Texas to Washington D.C. will draw the route on the map and place a marker of all TA locations on that route. The search will also add the written directions to the webpage and provide a link for each TA location so a user can look up the fuel prices as well. These additions are beneficial for TA and their customers.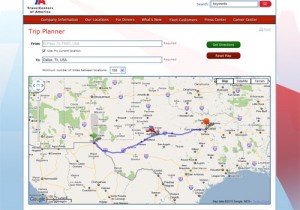 Stanton Street Puts It Together
As seen here, Stanton Street is taking great pieces of software like Google Maps and extending it to provide value added services to customers' web sites. The limits of customizing software are only limited by the API and imagination. We can just as easily customize Google Maps for listing homes for sale in an area, mapping areas of sales territories, popular vacation spots, historical points of interest and just about anything else that can be referenced on a map.
Google Maps is only one of thousands of APIs we can integrate into web sites. Now, we have the ability to integrate Facebook, Twitter, QuickBooks, Flickr, Amazon, YouTube, eBay and many others. We can extend each of these APIs in a way that provides your web site with unique features and value added benefits. If you have an idea of customizing Google Maps or adding some other customized options to your web site, we want to hear it!
*Application Programming Interface (API) is an interface that allows web developers to interact with other web sites and software programs.
Stanton Street is a web design and website development firm in El Paso, Texas specializing in Websites, Intranets, Extranets, SEO/SEM, Website Analytics, Email Protection and Email Newsletters. Designing and developing websites since 1999.