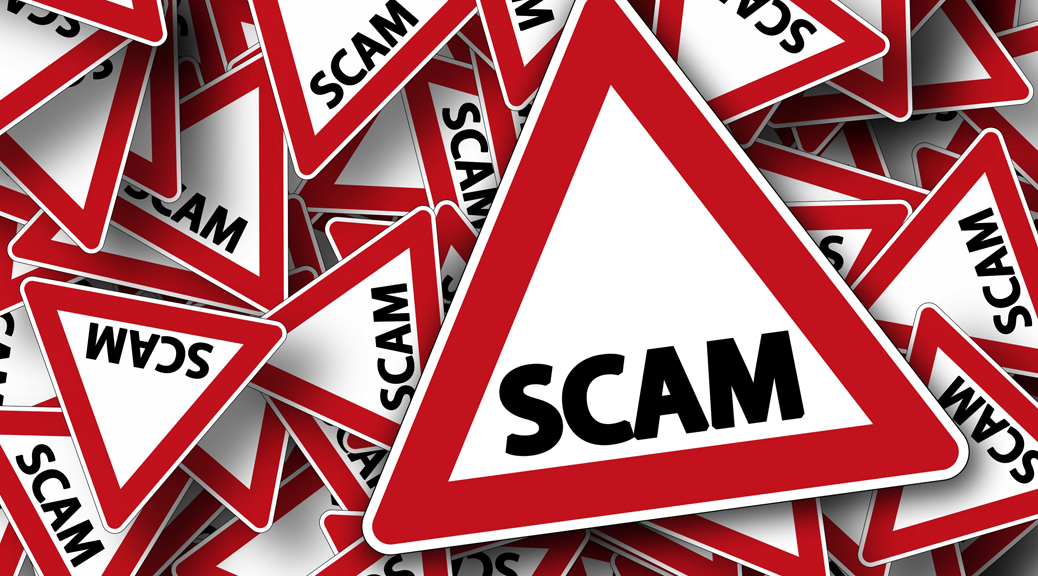 How to Identify SEO Scams
How to Identify SEO Scams
Have you noticed an increasing number of emails or phone calls about Search Engine Optimization (SEO)? We get them for our site too – several times a month – and we are in the SEO business! We also suspect that even Google gets their fair share as well. Messages like the one below are only one example: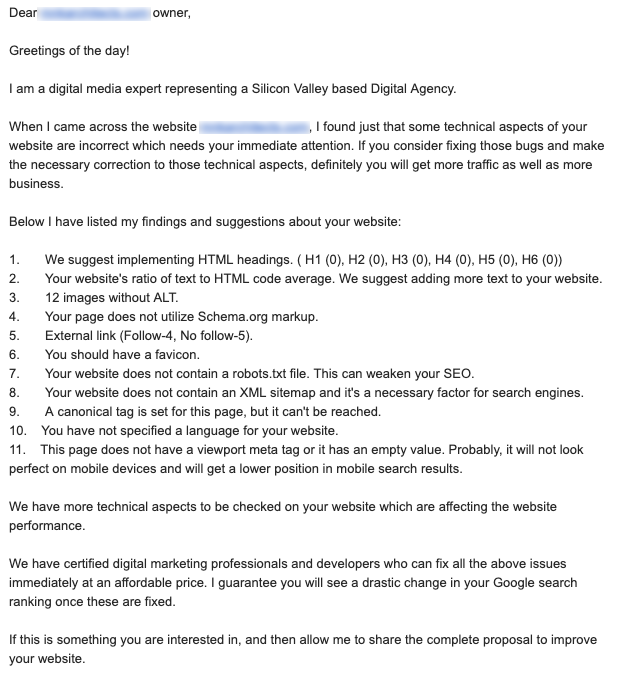 These kinds of emails, contact us form submissions and phone calls are scams, and we give you permission to delete or hang up on every single one of them. Some try to scare you with technical lingo trying to assert their "knowledge" when in reality they are using a form letter with an "insert name here" field and didn't even review your website.
So just in case there is any hesitation on your part, here are 10 signs that it is an SEO Scam:
1. Unsolicited SEO Offers
These unsolicited SEO offers appear from generic free email accounts such as gmail.com or hotmail.com. Scammers use spiders to crawl for lists of urls and email accounts. They then send mass emails that aren't even personalized with details about your website while making alarmist claims. Also, any legitimate SEO company would email you from their company email account, not a gmail account. Delete, delete, delete!
2. Social Media and Organic Traffic Claims
If the scammer did their research, they would give you specific examples of what your traffic currently is, and what they think you should be getting.
3. Reference to Important Keyword Phrases
If we were trying to get your SEO business we would let you know what your important keyword phrases are, and where you rank for them. Even just a few examples lend so much credibility to an SEO pitch. Without relevant examples, the email is just scam.
4. Social Media Sites Claims
Doing well in social media is a comparison game. How are you doing relative to your competitors? Which pages are they comparing you to and which metrics do they say you're falling behind for? Oh, we forgot. They didn't provide that information. Scam.
5. Free Website Audit Offers
If it's free and they really want your business, why don't they send the report as a pdf file with their email? This proves that they really know about your website. Oh, yeah it must be scam.
6. Guaranteed Rankings Claims
Any SEO that guarantees rankings is a scam artist.
7. "I'm not Spamming"
If they have to tell you they aren't spamming, they are.
8. They Claim to Have Found your Site Using Google in a Post Script
Hmmmmm …. Anyone else see a total contradiction? Your website must be ranking well in the search engines for something if they found you on Google. In reality, they used a spider to find your site, gather your information, and scam you.
9. Future Technologies Suggestions
HTML5 and Responsive Design are not future technologies. They are the latest technologies that are here to stay. This doesn't mean they are the best options for every website. Perhaps a mobile site would work better to meet your goals and your budget. Ask your current web developer. If they thought you needed it, they would have probably already have tried to suggest it to you.
10. Does the Self Proclaimed "Marketing Consultant" have a website?
If the "Marketing Consultant" specializes in getting you better search engine traffic, they should first prove their success by having a professional website. So go ahead and Google them. A little research on your part will uncover if they are legitimate or a scammer.
Need more information on how to improve your Search Engine Optimization the RIGHT way? Give us a call at (915) 351-8440 or fill out our contact form.

Karen Loper is the Internet Marketing Specialist at Stanton Street, an El Paso, Texas website development company.
Contact Karen Loper at (915) 351-8440.