An "Overwhelming Dependence" on Technology?
An "Overwhelming Dependence" on Technology?
I lost my smartphone last week and it was the most terrifying 20 minutes of my life. Ten years ago, those words would have never crossed my mind. It seemed obvious that my dependence on technology had swallowed me whole. From Facebook to Draw Something to all those great pics I took at last week's concert, my phone houses all the cool things in my life… or does it?
Lately I've been reading a lot of articles and watching videos about how technology is changing the very nature of human interaction. How people are losing their ability to have a simple conversation. That we're out of touch with ourselves, our families, our lives. Don't worry, I'm not going to get all "gloom and doom" on you. In fact, I'd like for people to embrace technology and use it for its true intention – as a tool to help you work more efficiently and draw people closer, not further away.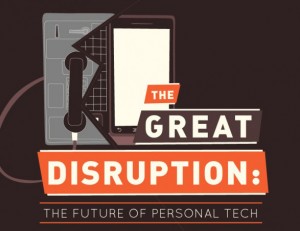 Our communication model is evolving and as we're navigating this uncharted territory there will be good and bad. We're finding new ways to communicate and technology will continue to move forward regardless of what anyone says. One thing which has never changed is that an attention span is the most valuable commodity. For the most part, you have a choice to leave work on time or turn off your computer. The key is balance.
Here's a great quote from Caterina Fake, co-founder of Flickr: "I think the online world and the offline world have to interact peacefully, and that the online world really should augment the offline world. There is no replacement for real-life relationships." In a nutshell, your relationships away from the computer, television, work and smartphone are what's important. Use technology to make those connections stronger.
Luckily, my smartphone was recovered from the gym. I had apparently forgotten it after my mega-intense-cardio-bulk-a-thon. The main reason I freaked? I have some dang good music on that thing.
For additional reading:
Ted Talk: Sherry Turkle, Connected but Alone?
How the Anti-Social Media Crowd Misses the Mark
Punctuation, Social Media, and Evolving Rules of Communication
Naomi Dhillon is an Account Executive at Stanton Street, a website development company in El Paso, TX.
Contact Naomi Dhillon at (915) 351-8440.