Advice for new grads seeking a career in web design
Advice for new grads seeking a career in web design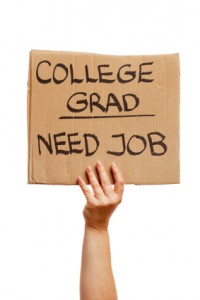 Spring is in the air and résumés are filling up inboxes across El Paso. We figured we'd take a moment to guide young padawans as they seek employment at web design agencies across this fair city. We're gonna serve it up straight so hold on to your binkies!
The Résumé
Research the company and know what you're applying for. Not all of the positions in a web design company are for developers or designers. Also, figure out if the place will be a good fit for you.
Tailor your résumé. Making copies of the same résumé for everyone says you didn't care enough to get to know the company so why should a company spend time getting to know you? (And by the way, companies can totally tell when you do this.)
Don't lie. If this dude got busted, so can you. What's the point really?
Proofread your résumé. If you can't communicate basics about yourself, that's a red flag to a potential employer and a source for lots of LOLs behind your back. Have others read it to see if they understand what you are trying to convey.
The Interview
Don't look like schlub. Most web design companies are laid back, but flip flops, shorts and a t-shirt? Pffft…
Be yourself. Potential employers already know you're nervous so let your résumé and personality shine, not the sweat beading off your forehead.
The Offer
If you get an offer, remember that you're entry-level so let's be realistic here. A six-digit salary isn't in the near future. Our advice: don't make it all about the benjamins – especially in this economy. Many have graduated years ago and are still waiting for a job. Be humble and accept opportunities as they come. You got the smarts? Prove it.
The Job
Did you accept an offer? Way to go! Here's some bonus career advice directly from Stantonites. Carry these words close to your heart.
"Be adaptable to different programming languages and techniques."
"Be Passionate. Passion will trump experience/knowledge every time."
"Be flexible. Your idea may not always be the right one. It takes many modifications to make a 'perfect' product."
"Expect failure. You have to try what doesn't work to find out what does."
"Stay caffeinated."
"Love what you do. If you don't, it will show."
"Brush up on your foosball skills, seriously!"
"Be a problem solver, not a problem causer."
"Today, virtually every business has some online connection. If you want a gig in this industry, you'll need to know a bit about how it works. You have to be hungry for the industry so one or two small bytes won't do. A mega appetite is what you'll need. Just remember, choosing this field as one of your potential career pixel definitely take you far."
"Study, Study, Study, Read, Read, Read. Chances are you're already way behind."
"Don't be jerky. Jerky gets you nowhere. No one will like you and you'll be eating lunch alone in your cubicle… crying."
Naomi Dhillon is an Account Executive at Stanton Street, a website development company in El Paso, TX.
Contact Naomi Dhillon at (915) 351-8440.