6 reasons to avoid WYSIWYG Web Development
6 reasons to avoid WYSIWYG Web Development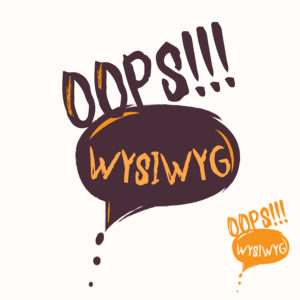 If you have spent time on any kind of social media lately, you probably haven't escaped the overwhelming push of WYSIWYG website development. Now I'm not referring to reputable content management systems such as WordPress or Joomla; but rather, the site building applications such as Wix, Weebly and Webs that claim to be cheap, fun, easy, zero programming experience required, and drag n' drop enabled (of course).
It's easy to fall into this trap. Mostly because it's cheap! But the truth is it's quite different. Here a few reasons why you are better off investing in a quality website.
1. No foreign company logos
Contrary to popular belief, free doesn't always mean what we would like it to. "Free" packages from site builders usually include their logo scattered across your website. Not only does this take the attention off your company but it also adds a non-professional vibe to your brand.
2. Ultra Custom pages
Need a web page that showcases a sweet banner slideshow and the latest stock prices? Anything is possible! Except when using site builders. You will be strictly limited with the tools needed to create the perfect webby goodness to make your work stand out against competitors.
3. Easy to use tools are not so easy
Drag n' drop sounds so wonderful, and it really can be for actions such as bulk uploads. What it's not great for? Content placement. Dragging a picture turns into a wrestling match. Let the CSS experts help you with that.
4. You don't know if your website is secure
Now, I'm not saying these site builder websites are prone to vulnerabilities. But the truth is, unless you can speak to someone who can fill you in on exactly what security measures are implemented – you'll never know where your site stands when it comes to security.
5. Getting noticed shouldn't be left to chance
Search Engine Optimization is tricky stuff, but crucial when it comes to shutting out competitors. Trusting automatically generated SEO tactics will just not do. Leave it to the experts to research and develop the best strategies for increasing traffic of your site.
6. Customers care about the usability of your website
We're not all tech savvy in this world and that is okay. But if there is one thing that will get noticed on a website immediately, that is the level of usability. If a customer is fighting to navigate through subpages, they are more likely to shut you out and turn to a competitor. Remember, no one is sitting in front of them – rejecting a website is easier and faster than rejecting a human. Make your website grip your customer's attention in a positive way.
There you have it, just a couple reasons why site builders are not all they're cracked out to be. Leave the complicated web stuff to us nerds and your investment will reward you in the end. Give us a call at (915) 351-8440 or fill out the contact form on our site!
Stanton Street is a web design and website development firm in El Paso, Texas specializing in Websites, Intranets, Extranets, SEO/SEM, Website Analytics, Email Protection and Email Newsletters. Designing and developing websites since 1999.